Sedimentology and Stratigraphy
Cuba Formation (Clarke, 1902)
Lithology. Similar to the thick sandstone packet of the Machias Formation, the observed Cuba Formation occurs as three lensing fine-grained sandstone packets typically separated by interbedded gray shales and thin sandstones. The sandstones of Cuba Formation were dominated by HCS and SCS, and have a lesser occurrence of TCS and tabular cross-bedding. Small amplitude and wavelength symmetrical and interference ripples were commonly observed on the inner surface of large troughs and swales, implying complex, combined-flow during time of deposition. Coquinites were observed commonly as thin lenses, internal to the sandstone packets or as a basal coquinite at base of each thick sandstone bed. Fossils were typically brachiopods and ossicles of crinoids either collected into the coquinite lenses or sporadically occurring throughout the sandstone bed. Lensing and eroding of individual beds is common and lateral variability of a single bed can range from a few centimeters to 1.5 meters over a 5 m distance. The lithology of the two interbedded sections separating the three sandstone packets is quite similar; the thin sandstones contain HCS and 3-dimenisional ripples (linguoids), and will lens in thickness over short lateral distances with pinch-outs common. The thinner sandstones can be fossiliferous and resemble standard tempestite models.
Ichnology. The thick sandstones of the Cuba Formation contain a low-diversity Skolithos ichnofacies consisting primarily of Arenicolites and Skolithos, with less abundant examples of Thalassinoides. The interbedded section contains a mixed Skolithos-Cruziana ichnofacies consisting of Planolites and Palaeophycus in the shales and at the sandstone shale contacts and Arenicolites and Skolithos in the thin sandstones. The interpretation for the Cuba Formation ichnofacies is that the interbedded sections represent lower energy conditions that were disrupted by short periods of high-energy, probably storms. The thicker sandstones represent deposition during high-energy periods, with the lower-energy periods removed by erosion.
Interpreted Depositional Environment. The Cuba Formation is interpreted to be deposited above storm wave base, probably upper offshore. The numerous tempestites and combined-flow sedimentary structures in the thin sandstones reflect episodic storm activity. The thicker sandstones were interpreted to be deposited mostly by larger, hurricane-size storms. The large-scale lensing nature of the thicker sandstone packets is interpreted as being deposited in storm-generated shelf sand-ridges.
Cuba Formation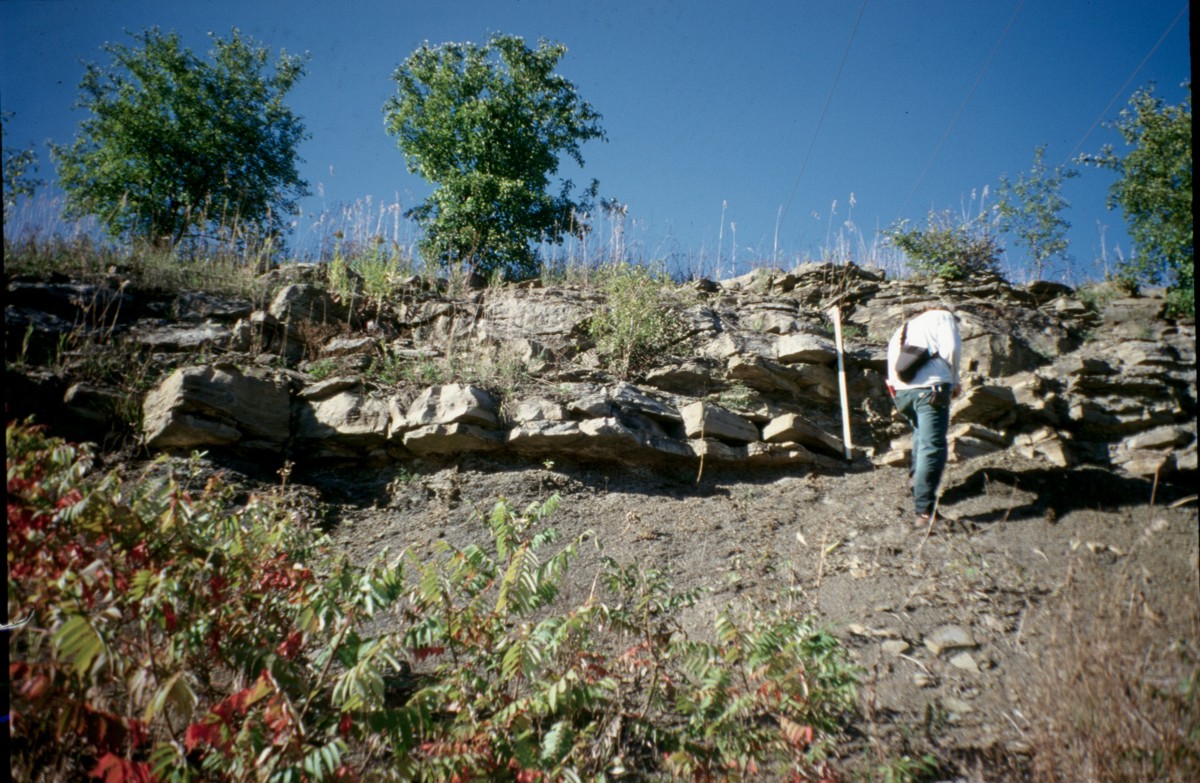 Cuba Formation along Rt. 86 in the Cuba 7.5 topographic quadrangle, T. Peters for scale.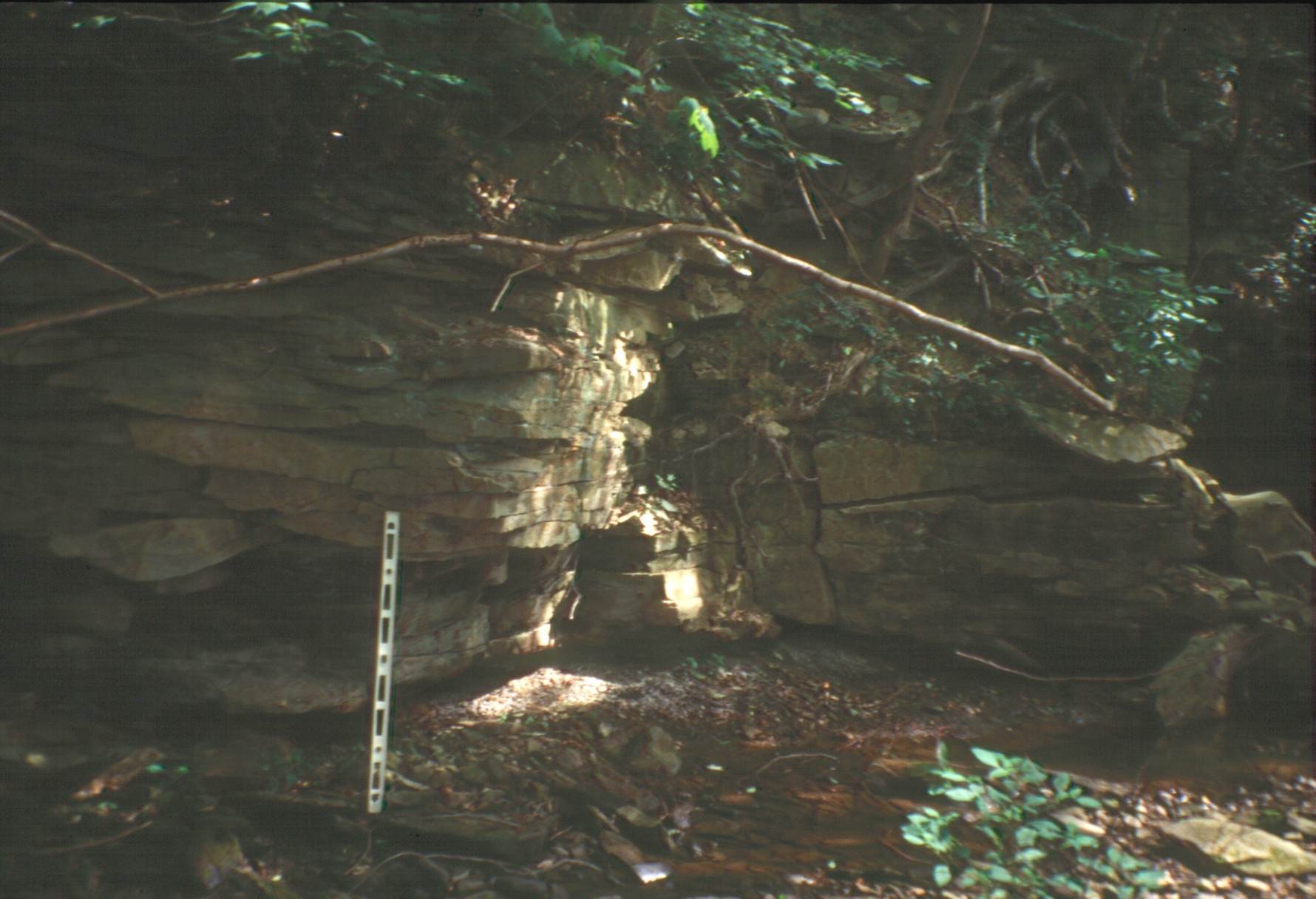 Outcrop of the Cuba Fm., in the West Almond quadrangle displaying trough cross-sets and swaly cross-sets.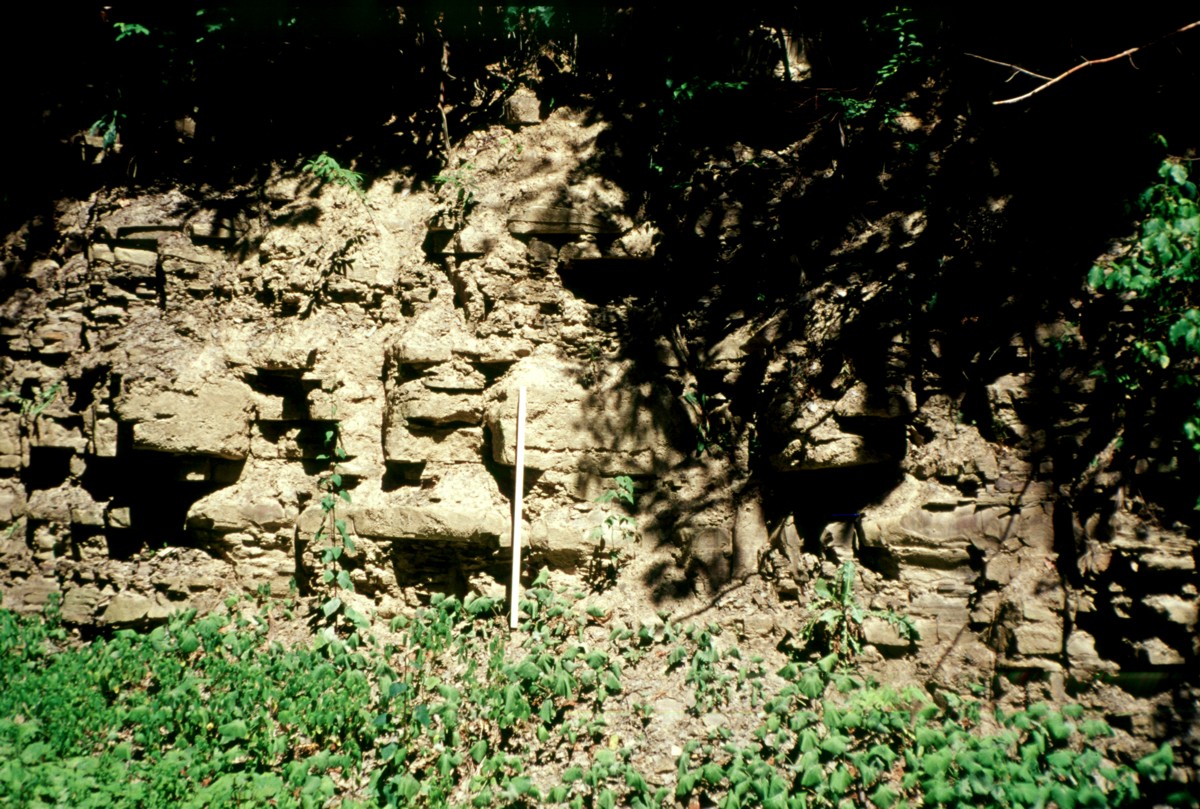 Roadcut along Wagner Hill Rd. in the Cuba quadrangle exposing an outcrop of the Cuba Fm.