GLY 215 includes five mandatory field trips to various modern and ancient environments that we want to compare. From beach and river environments to aeolian dunes, a wide variety of sedimentary features awaits us. The modern environments are compared to fossil environments in the Ordovician to Devonian succession of western New York as we explore the Niagara Gorge (Art Park) and the "Grand Canyon of the East" (Letchworth State Park).
Trip 1 - Wilson Beach, Lake Ontario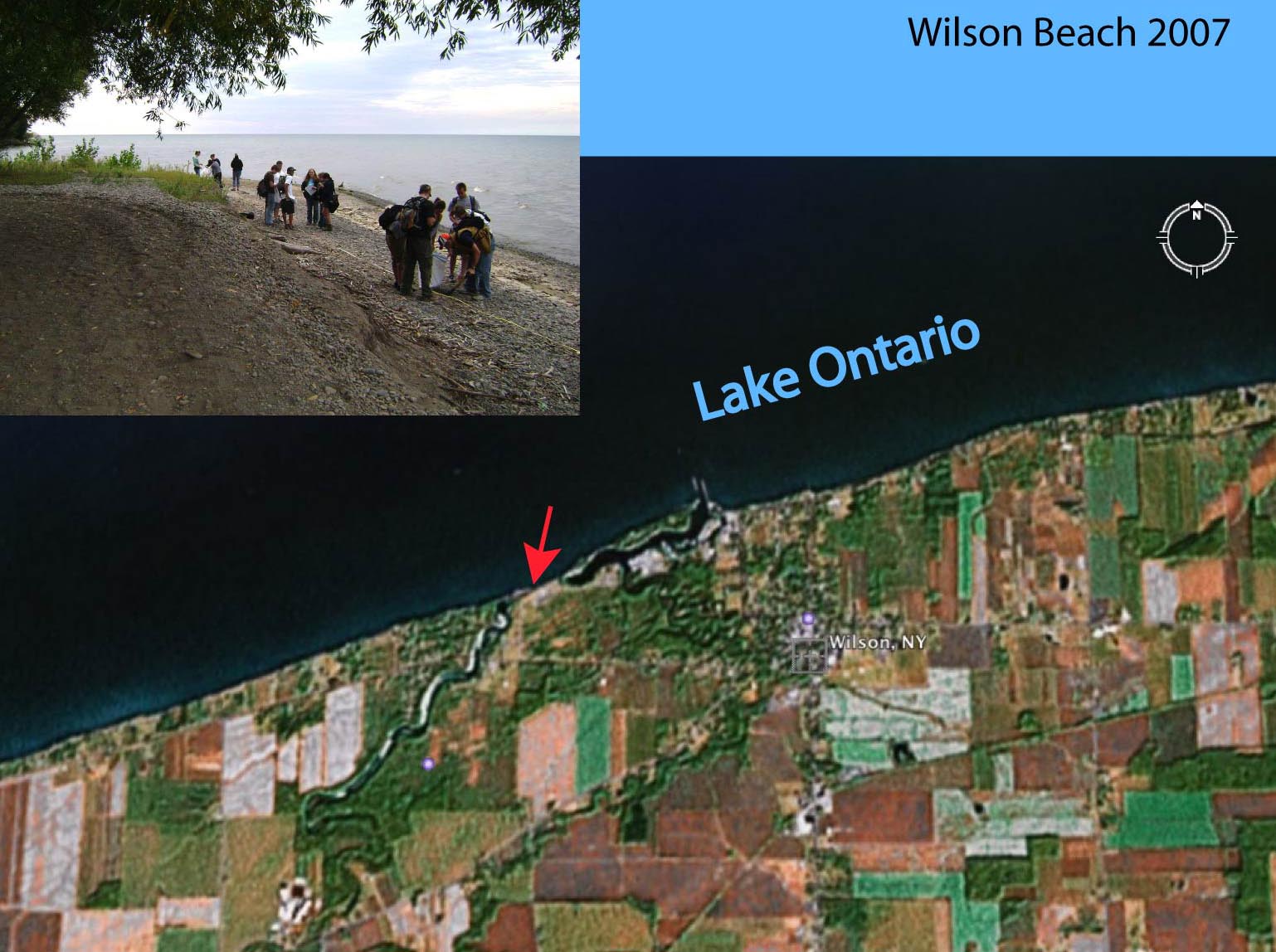 The trip to Wilson Beach is usually the first trip of the semester. We investigate the sediments on the shore of Lake Ontario and their formation. We are especially interested in sediment sorting through the wave action on the shore. Across the lake we can see the city of Toronto in the distance. Each group has to collect a sediment sample that will be analyzed in the lab during the semester.
Trip 2 - Zoar Valley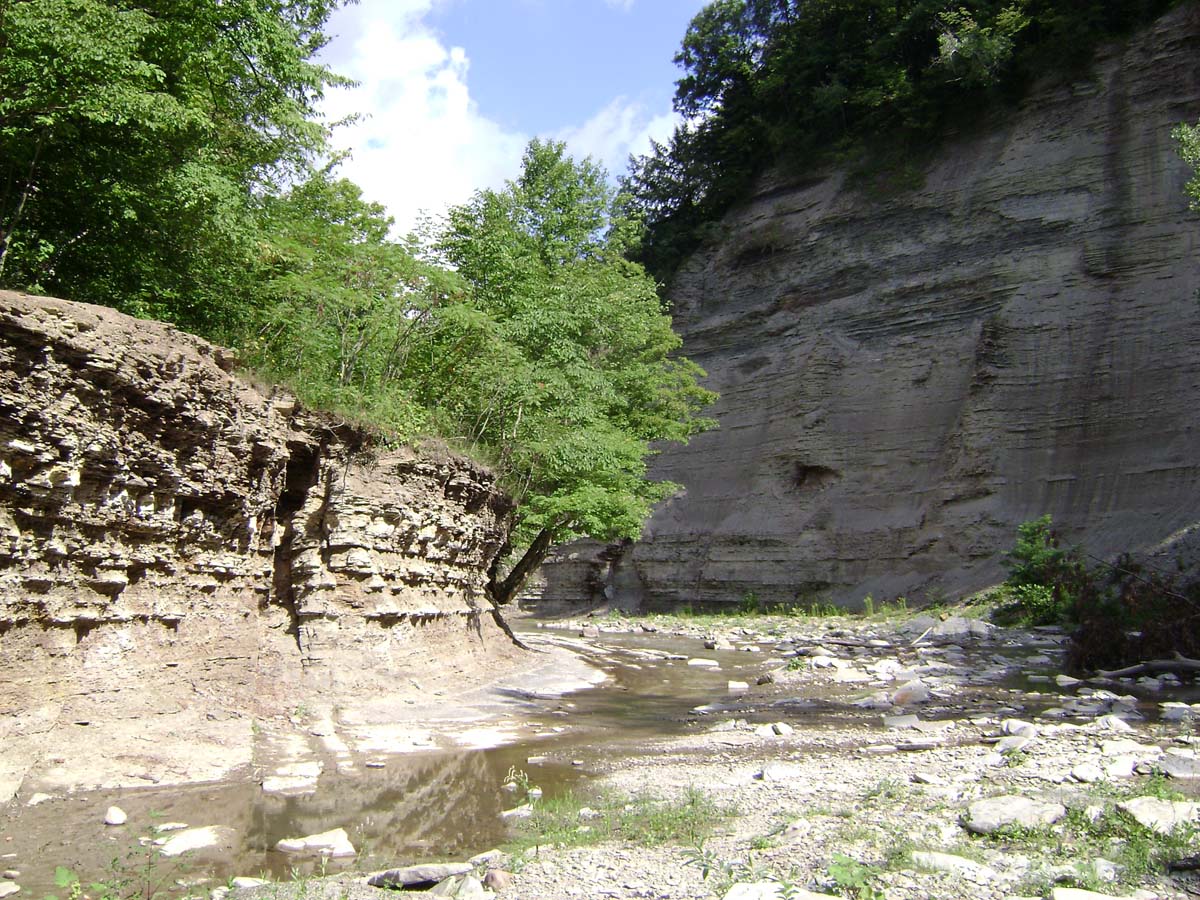 The Zoar Valley trip shows us modern and ancient environments in one single locality. The river transports and sorts sediments from the surrounding cliff faces, but also includes a lot of reworked glacial material. The glacial material consists of rounded pieces of metamorphic rocks, called glacial erratic boulder, easily spotted in the stream because of the strange and unexpected lithologies.
Current ripples are common in the stream, imbricated slabs of platy Devonian sandstone and siltstone can be seen everywhere, indicating the transport direction within the river environment.
The Upper Devonian rocks in the cliffs show graded bedding, cross bedding in many of the coarser, silty to sandy layers, while little sedimentary structure is visible in the shales. Ripples can be seen on a large surface, similar to the ones in the modern sediments of the river. However, they indicate a quite different environment here. One layer in the Devonian succession is particularly interesting. It shows septarian limestone concretions with its typical internal shrinkage cavities (see below).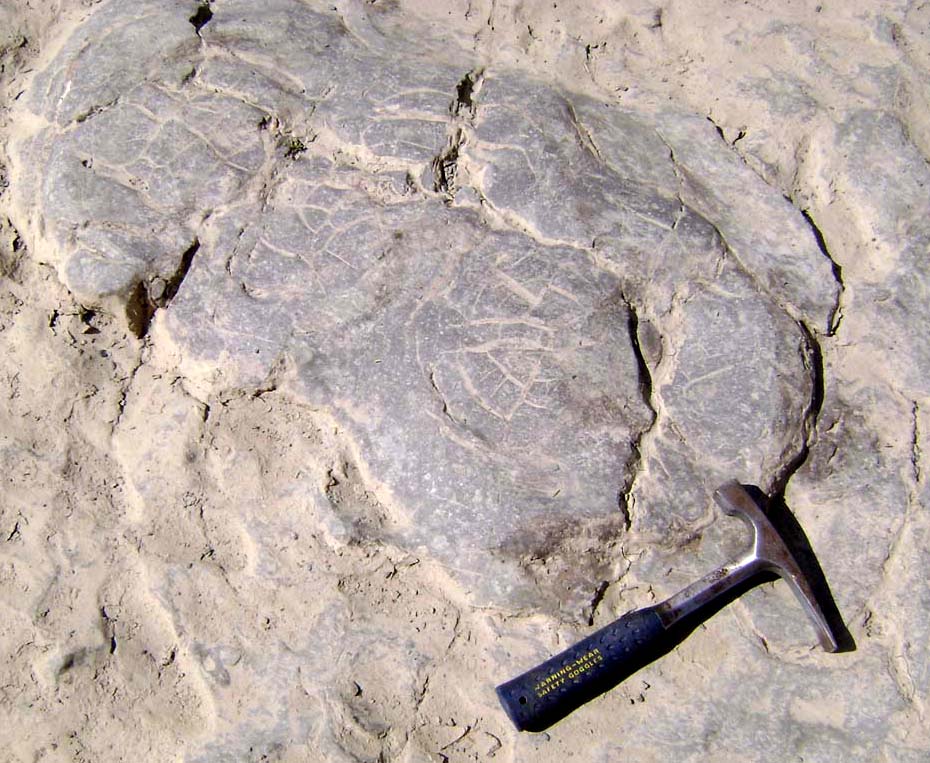 Trip 3 - Bennett Beach, Lake Erie
Bennett Beach provides us with a fascinating experience. We see some of the rare dunes found in western New York, formed at the eastern end of Lake Erie. Ripples can be investigated in two environments, the shore of Lake Erie as an example of water lain ripples and the ripples on the higher part of the beach, where the influence of wind is more apparent.
Trip 4 - Paleozoic environments in the Niagara Gorge, Art Park
Trip 5 - Letchworth State Park
GLY 215: Soft Rock I: Sedimentology (w/Lab)